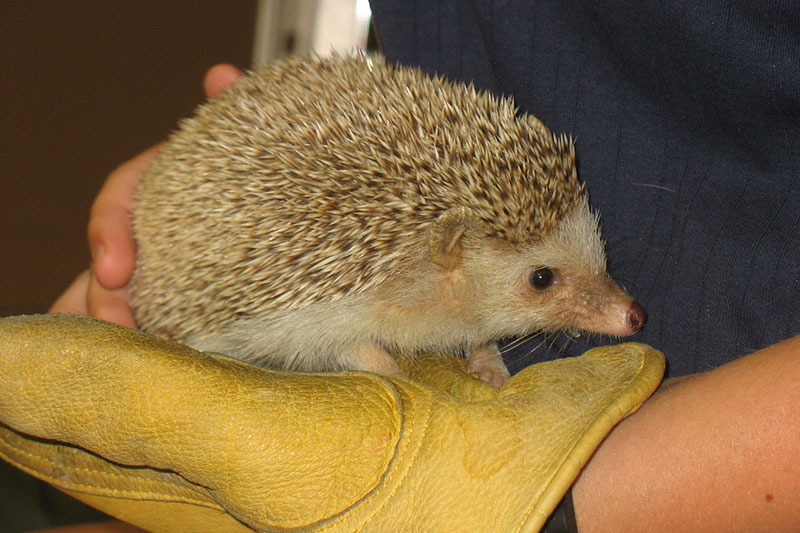 Working with Cosley Zoo is a great way to earn scout badge requirements.
Scout Programs
Due to the hands-on nature of the activities required for scout badge requirements, Cosley Zoo is offering all badge programs virtually at this time. If you would like to bring your scouts to the zoo for an in-person live animal experience, please visit our school and group program page. Please note that while our school and group programs offer an engaging live animal experience, they are not designed to meet badge requirements. Check back soon for in-person programs to help support badge requirements.
Cosley Zoo offers one-of-a-kind, virtual programs that help scouts of all ages meet their badge requirements.
Program Details
What's included:
Leader packet containing background information, activity instructions, and supply list. This packet will provide everything you need to facilitate badge activities either in person or virtually. Supplies will be common craft/household supplies.
Twenty-minute virtual live program with a Cosley Zoo educator and live animals corresponding to the theme you have chosen. Scouts will see animals up close, learn animal facts, and have time to ask questions. Scouts may log in from one device as a troop if you are meeting in person, or from their individual households.
Program Fees
$125 per program scheduled to begin between 9A and 4:30P. For programs beginning outside of these hours, please contact our Education Department at 630.665.5534 or education@cosleyzoo.org for custom pricing.
Payment is due two weeks in advance of the program date. You will receive your leader packet once your payment is submitted. You are welcome to submit your payment more than two weeks in advance if you would like to receive your leader packet earlier.

Reservations
A minimum two-week advance notice is required to schedule a program. Earlier registration is recommended. Scheduling is on a first-come, first-served basis. Contact the Education Department at 630.665.5534 or education@cosleyzoo.org with your questions or to book your program.
When making your group reservation, please have the following information available:
Group contact information
Date and time you would like your virtual program to take place. Please have an alternate date in case your first choice is not available.
Number of participants
Age/grade level of participants
Information regarding any special needs or accommodations requested
Program topic
Program Topics
Daisy Scouts
Tula
Build courage as we talk about things we think are scary. What are you afraid of? Here's the chance to break barriers and touch a (gulp!) cockroach, or maybe a snake. Be strong—you can do it!

Critter Care
What does an animal need to live a healthy life? Are animals needs the same as people's needs? Zookeepers need to know a lot about the animals they are tending. Join us as we explore the ins and outs of animal care. This program helps meet the requirements for Zinni and 3 Cheers for Animals.

Brownie Scouts
Bugs
This activity-filled program will help your troop gain a greater appreciation for the world of bugs. Although they are tiny, insects have many amazing characteristics for us to explore. An insect-themed craft and a live insect visitor are a part of every class.

Pets
There are so many different types of pets available—how do you know which, if any, is right for you? In our Pets program, we'll learn all about how zookeepers take care of Cosley Zoo's horses, rabbits, chickens, and other domestic animals and investigate what it means to be a responsible pet owner.

Senses
Explore your five senses with a zoo-themed twist! We'll be comparing and contrasting our senses to those of the animals living around us. How does your vision compare to an owl's or your hearing to a rabbit's? Come join us and find out!

Junior Scouts
Animal Habitats
Discover and investigate the many different animal habitats that we have right here in Illinois! Every animal has its own needs and each habitat presents different challenges for the animals that live there. Learn what these challenges are and then create your very own animal habitat! We'll also discuss endangered habitats, meet a live animal and learn what you can do to help protect animal homes.

Looking to meet requirements for something not listed? Let us know. We can customize a program for you.
Tiger Cub Adventure
Learn about discovering animals nearby as we focus on using some of our senses in this fun and hands-on program. This program helps meet the requirements for Backyard Jungle #1, #2, #5 and Tigers in the Wild #7.
Program offered April-October, seven days a week
Wolf Cub Adventure
Get out your field guides! In this program we'll explore some of the different ways we can identify Illinois native animals. We will also learn all about the three R's of recycling and what you can do at home to keep our Earth clean and healthy. This program helps meet the requirements for Call of the Wild #3, Council Fire #6a, Paws on the Path #7, and Spirit of Water #1 and #2. To earn Council Fire #6b, groups can choose to pre-collect recyclables to donate to one of the zoo's recycling projects.
Program offered year-round, seven days a week
Bear Cub Adventure
What does it mean when we describe an animal as endangered, threatened, or extinct? Find out as we learn about some of these species and how scientists can use field observations to learn how to protect Earth's plant and animal species. This program helps meet the requirements for Fur, Feathers, and Ferns #2, #3, #4, and #5.
Program offered April-October, seven days a week
Webelos & Arrow of Light Adventure
Hear about animal roles and how every species has a place as we take a close look at wetland habitats and their importance. We'll also learn how to identify some local plants and animals that can be harmful to people and how to treat yourself if you happen to come in contact with them. This program helps meet requirements for First Responder #5 e.-g., Webelos Walkabout #3, and Into the Wild #7, #8, and #9.
Program offered year-round, seven days a week
Looking to meet requirements for something not listed? Let us know. We can customize a program for you.
NOTE: In order to comply with Restore Illinois Phase 4 guidelines, overnight programming is temporarily unavailable.
Overnights are great for both Girl and Boy* Scout groups! Experience animals and nature from dusk till dawn without ever leaving the suburbs. We'll provide the activities, an evening snack, continental breakfast and tons of fun!
* Cosley Zoo is a Baloo approved Cub Scout Camp site!
Two ways to stay
Sleep indoors in the climate controlled upper level of the Vern Kiebler Learning Center (available year-round)!
Pitch your tents on the zoo's front lawn (available April-October)!
Overnight Fees
$40/participant (children and adults)
Minimum 20 participants/maximum 40 participants
One adult chaperone for every 10 children is required
Details
The adventure begins at 6:30P and ends the next morning at 8A
Overnights are available on Friday or Saturday nights
Wild Nights Overnights are "lock-in" type programs. Cosley Zoo's front gates will be locked after all participants have arrived and will only be unlocked in case of an emergency.
Several Cosley Zoo staff members stay overnight with your group.
For more information, download: Group Overnights at Cosley Zoo (PDF)